As the world is getting digital and the use of smartphones is also increasing. Nowadays people rely more on smartphones for their work. Mobile phones can make our work easy.
Everything is possible online so why not healthcare. Our health fitness can also be possible online. We can get suggestions and healthcare tips online.
If you are willing to start your healthcare business that can help users to take better care of themselves then you must refer to this blog for getting ideas for your healthcare app development.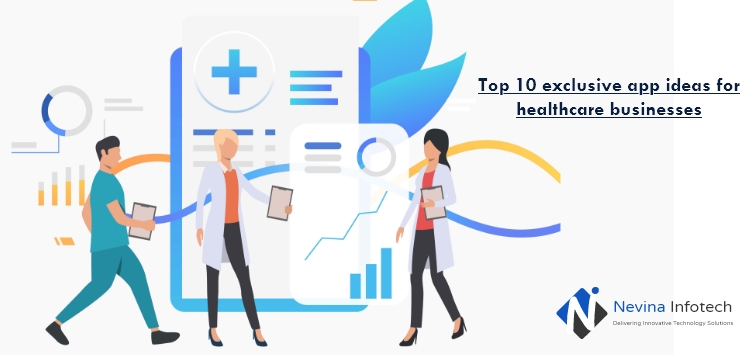 Healthcare App Ideas 2021
Given below are the best healthcare app ideas to serve the audience in a better way.
On-Demand Doctor App
On-demand doctors app will help you to consult a doctor whenever you want and whichever place you are. Suppose that you are in a new place which you haven't visited before and you fall sick at midnight at that time you can use this app without hesitation and can consult a doctor easily.
This app is convenient for the users to consult a doctor easily just with a few clicks. With the help of this app, you can contact an experienced and certified doctor who is trustworthy and professional.
This is the best app for providing 24/7 service to patients without standing in a long queue and waiting for their turn. You can also pay online to the doctor and can also buy medicines with the help of this app.
This is the best app for starting your business with a healthcare app development as it serves patients anywhere at any time.
Appointment Booking App
No one likes to stand in a long queue and wait for their turn to consult a doctor. This app can help patients to book their appointment with doctors online at their convenient time and day. They just need to check the slot online for booking their appointment and they can easily book the appointment for the empty slot.
This app can also remind you of your appointment date and time with your doctor. It has an inbuilt calendar that will remind you. You can also upload your reports online before consulting a doctor and you can even pay doctors their fees online with this app.
This app can also set your follow-up with a doctor if you need and for regular checkups. This app is so convenient for senior citizens and patients who need to visit doctors frequently.
This app provides you with the list of best doctors nearby you when you enter your location and you can select the doctor you need to consult and just book a slot.
Healthcare Apps for Women
Women's health is a huge concern so it is important to have an app for women's health that can help them to stay healthy. You must develop a healthcare app for women to track the menstrual health of women, solve their medical issues.
How to Choose Best e-Signature App
Has anyone thought about a medical app that only works for women? It is a great idea to have an app that is only for women.
For women's healthcare app, it consists of a gynecologist, dietician, therapist, etc. Your app can become the best platform for solving women's health issues and it can also become popular.
Healthcare App for Lifestyle Disease
Lifestyle disease health management is one of the best ideas for the healthcare app development business. Lifestyle diseases like blood pressure, diabetes, thyroid, etc require regular check-ups and medical attention. Developing lifestyle disease app management is a great idea for a startup.
In this app, you can also allow users to track their medical health on their own regularly and you can provide a list of the experts for the specific disease that can help users to consult them.
You can also unite with local medical shops to provide medicines to the patients after a particular dose gets completed.
Health Reminder Apps
These types of apps help users to perform a certain task by providing them with their daily goals and tasks to enhance the health of the user.
You can develop a medicine reminder app that keeps a track of your medicine intakes and reminds you to take pills on time. You can also add scheduling your appointment for regular check-ups and can also set reminders for it.
You can also develop a water reminder app, this app can keep a track of how many times and how many liters of water you consume in a day and can also remind you to drink water as per the time you set in the app.
Personal Medical Records App
You can develop an app that can enable you to add your medical health records and share them with the expert doctor.
This type of app can help a doctor to check the past history of the patient and can give medicine according to their records.
Weight-Loss/Diet-Tracker App
Everyone has become health-conscious because they have realized the importance of health and in this pandemic, it is important to keep yourself healthy to fight against the virus.
This app can track the progression in your weight and health and can provide you with a diet plan according to that.
This app can keep a track of your calorie intake and it also provides you with different exercises for weight loss.
Mental Health App
Mental health is very important for everyone one should not be just physically fit but they should also be mentally fit. Many people are suffering from mental health like stress, depression, anxiety which are very serious diseases to consider for mental health.
You can develop an app that can keep a look at the mental health of people and encourage them and make them feel good. This can help to improve the health of the people.
This can be an excellent idea for healthcare app development.
Sleep Tracker App
Life has become stressful for many people which can affect sleep of people. Developing a sleep tracker app can track the total number of hours a person sleeps.
The sleep tracker app can help the person to know that the hours of sleep they are getting are healthy or not. If not then the app will provide you the guidelines for improving your sleep.
The app can show you some tricks to keep your mind calm for better sleep. This app can be a great initiative for health purposes.
Medical Training through Virtual Surgery
Medical training has gone through a whole new level with the help of Augmented Reality, Virtual Reality, and other reality healthcare apps. Augmented Reality and Virtual Reality control and instruct the surgeons and medical interns to undergo the surgery as well as the feel of performing it in real.
This app can be specially used by medical interns to practice the surgeries properly so that they can get trained easily.
Conclusion
These are the top exclusive ideas for starting your business in healthcare app development. With the development of healthcare apps, it is also important to have healthcare app development services to provide service to the apps you developed.
I have tried my best to provide you with the best and trendy healthcare app ideas. I hope that this blog will help you to start your business by developing the app by applying my idea in your app.
Rahim makhani, CEO and managing partner at Nevina Infotech, Enterprise Web App & Mobile Application Development Company, helps global businesses grow by healthcare app development services. His 10+ experience enables him to provide digital solutions to new start-ups based on IoT and Blockchain and some trending technologies.