One of the biggest challenges that are associated with businesses is customer retention. More often, businesses struggle to retain customers, and there are numerous reasons that line up. Here, the topic will be about tips to retain customers in the food delivery business.
Tips for Healthy Future Amid Pandemic
You know the height of challenges in food delivery businesses. The main challenge is the growing rate of food delivery apps. At present, food lovers have a sea of food delivery apps to pick from. Also, the offers provided in different apps are definitely an attention-grabbing marketing tactic. Okay, we will quickly head to the core content!
6 Most Proven Customer Retention Activities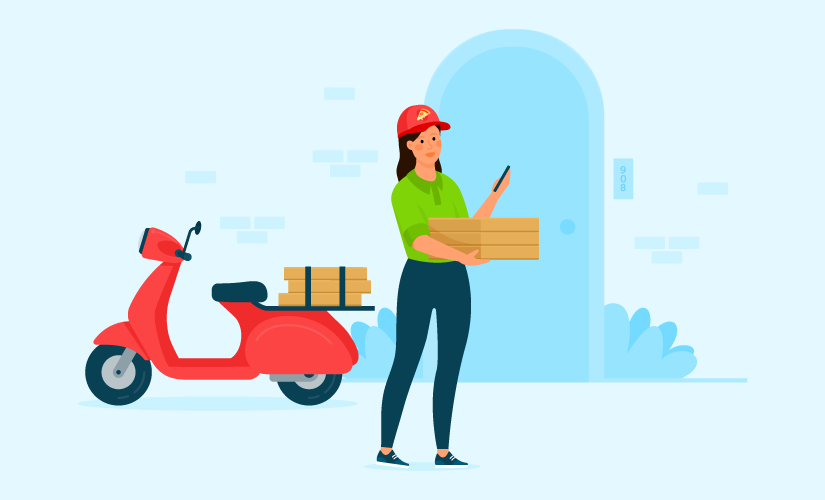 Rewinding to the last decades, restaurants barely had quite a few ways to retain customers. But in the present internet era, food delivery businesses can completely rely on online marketing for actualizing their retention strategies. Below is a list of customer retention activities carried out by a majority of restaurant or food delivery business.
Personalization in Food Delievry Business
Personalization is everything. You might have come across the phrase, "no two leaves are alike." What is the purpose of personalization? Simply to show some extra attention to users. That extra attention you show to your customers will reap you extra benefits.
Personalization can be carried out in numerous ways. For example, personalized order packaging that holds the name of the customer along with a simple message (have a great day!) can bring a smile to their faces and will be alluring.
Coming to in-app personalization, you must develop an AI-based online food ordering app like UberEats. The AI-based algorithm will catch the personal preferences of customers by constantly monitoring their previous orders. So, the very next time the same customer opens your app, they will get personalized choices for placing their orders.
Overall, if customers feel that they are recognized, then their attention towards your app will automatically increase.
Timely Order Delivery
In a food delivery business, skipping the actual order delivering time will create a bad impression. Whether or not the customer is hungry, they will always expect to receive their orders on time. There are many reasons for the deliveries getting delayed. Here are some of the predominant reasons for your knowledge.
The delivery person might not be able to find the location of the customers precisely, the restaurant may delay the preparation, traffic, etc., might account for delayed deliveries.
An advanced app is needed to sort out the problem related to finding the location of the customers. How? Advanced apps of today have the route optimizer, which will start collecting the number of possible routes available, once the delivery person starts out with the order.
The delivery person will be informed about the traffic conditions in advance so that they can choose the route accordingly. What if restaurants delay in preparing the orders? If any restaurants have a record of delayed order preparation, then simply those restaurants must be removed from the app.
Freebies for Food Delivery Business Success
Like how you provide offers for your customers, freebies are also one of the customer retention activities. If you provide freebies, your customers will be surprised and also be engaged with your app. Basically, you can add freebies based on the order size of your customers. Freebies can range from food items to T-shirts to coffee mugs, etc. Also, it will not always be feasible to provide such freebies like T-shirts, mugs, etc., but you can make use of any special occasions for the success of your food delivery business.
When pizzas and similar items were introduced, users showed more affinity towards those items. Of course, even today the preference for pizzas and other junk food items is prevalent. Yet, if you take a closer look, the intake of healthy food items has also increased. Simply, the awareness of healthy menus has become a common thing.
These days, restaurants are incorporating healthy ingredients in every possible recipe, thereby providing healthy food choices to customers.
Ask Out for Reviews
You can grow your business and reach out to more customers by asking out reviews from bloggers or influencers. Choose food bloggers who provide reviews and have a pool of followers. Either you can invite them to your restaurant or directly send out orders to their place. Following that, you can ask for reviews and they will taste your food and open up their opinion.
Similarly, you must also get feedback from your customers after every order. A rating system must also be coupled with the feedback feature. Your customer feedback is the basis for improving your food delivery business.
Support
Providing customer support shouldn't be a business activity. Consistent customer support is necessary in order to retain customers for a long time for the food delivery business too.
Conclusion on Food Delivery Business

the limitless growth of the food delivery marketplace is forcing business owners to frame intelligent marketing ideas, which becomes challenging for budding food entrepreneurs. Nevertheless, you can shine in this sector with well-researched marketing plans.
Angelina is a market researcher at appdupe, working for food delivery app like UberEats. She helps the company by analysing the current trends and technology which benefits the people.