In case you missed it, the video gaming market is an absolute behemoth. It is said to be worth $356 billion by the year 2025. With almost 3 billion people across the globe playing video games at any one time, this industry has seen colossal growth in the last few years.
In the U.S., over 214 million people play video games on a regular basis. With so much local and global competition between players, how do you stand out from the rest?
To learn more about how to get better at video games and broaden your skillset, concentration, and gaming environment, this blog is for you.
Is Gaming Actually Good for You?
The idea of being cooped up in a dark room all day with your eyes glued to a large screen, devoid of real, human interaction doesn't sound super healthy, does it? But the reality is that this is not the environment that most gamers play in.
Nowadays, most serious gamers have impressive setups with ergonomic chairs, good lighting, and the best quality gaming pcs money can buy - check out lenovo.com for more on that.
The negative association between gaming and poor health is not all that accurate and is really just a stereotype perpetuated by society. On the contrary, gaming can be pretty beneficial. Here's how:
It Boosts Your Dexterity
In terms of manual dexterity, console-based games are great for building up strength in the hands. In fact, specialized video games have even been developed as a form of physical therapy for stroke victims to help regain their dexterity.
Gaming Can Improve Memory and Perception
While video and computer gaming may seem "mindless" or nothing more than a bit of fun, it's actually a great exercise for the brain. Gaming helps to increase gray matter which is associated with memory, perception, muscle control, and navigation. It's also brilliant for brain connectivity.
It Can Improve Social Skills
Who said gaming is an anti-social activity? It's quite the opposite in today's day and age where you can choose to play with random players online. This may force a shy person out of their shell in order to communicate with gaming teammates or other competitors.
To add to this, some games have social and collaborative components to them which encourage and teach better social skills.
Video Gaming Is Great for Problem Solving
There is a myriad of video games specifically designed to be complex and boost a person's perception and problem-solving skills. Some of these types of games include mission-based, multi-level, and Open-World games.
These games force you to think on your toes, strategize, and develop solutions to help you out of sticky situations. This, in turn, can translate to real-life problem-solving skills.
How to Get Better at Video Games: 7 Simple Strategies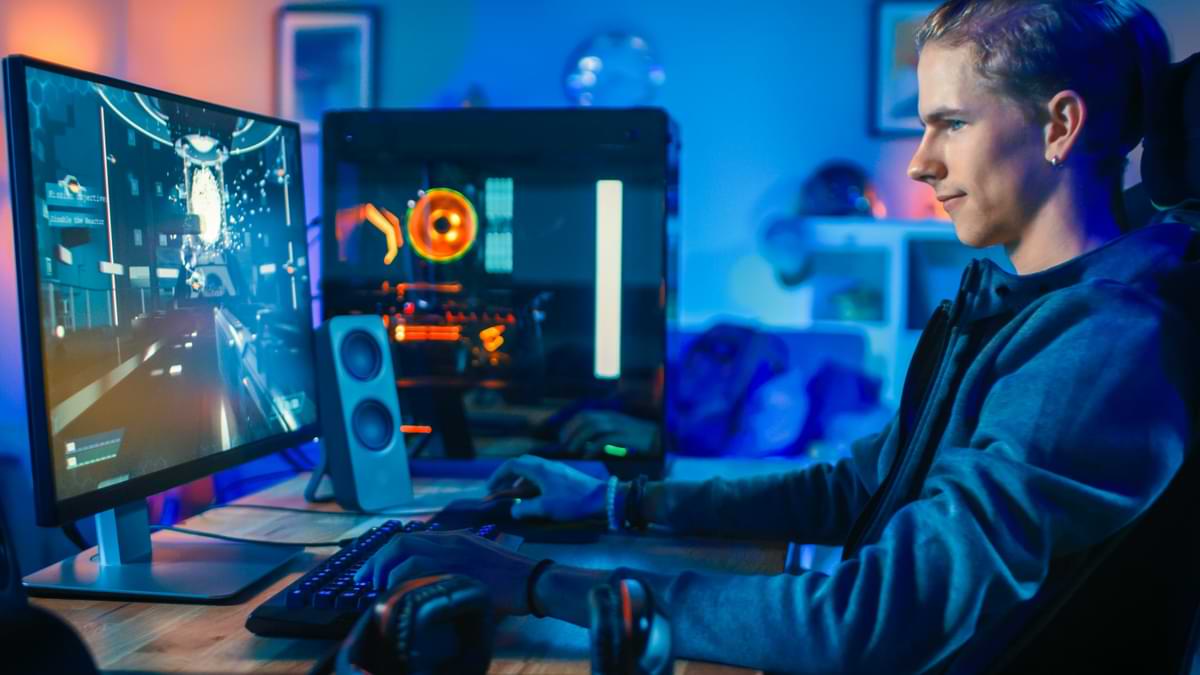 Most gamers of today know that the key to their gaming quality and concentration has a lot to do with their gaming environment. It also has plenty to do with your gaming habits - before, during, and after each game.
Check out these simple tips for more:
Take Regular Breaks
Research has shown that when you commit to anything that is cognitively exercising or taxing, such as gaming or studying, it's important to take breaks and allow your brain to unpack information, relax, and recharge.
This is one of the most important tips for any gamer. Give your brain a chance to cool down and you'll have the best chance at maximizing your full potential. The last thing you want is to burn out, as this can derail your progress completely.
It's also important not to over-practice if you are part of a team play. Mental stamina is a key factor to consider when it comes to gaming, so make sure you split up your day wisely if you are spending it on gaming.
Become a Mentor to a New Player
Another brilliant tip that can increase your understanding and perception of a particular game is to become a mentor to someone who is looking for it. In other words, you are Yoda, so find your Luke.
It's a great hack for self-improvement. In essence, it allows you to become better at recalling information, then applying it in an effective manner. In addition to this, a young, fresh set of eyes is a good way to highlight holes in your own gaming strategy.
When it comes to games that are especially tactical and strategic, mentoring a noob will keep you in touch with the basics so that you don't forget how to beat the game. It also helps you to develop different tactical outcomes - essentially, you both learn as you go.
Get Some Fresh Air
There is nothing more mentally refreshing and restorative than fresh air. When it comes to your ideal gaming environment, open a window or two and make sure there is some form of natural light in the room.
It's incredible how much a little exposure to daylight and your natural surroundings can improve one's concentration skills. This applies to anyone who works indoors and has a cognitively taxing job, too.
When you take your breaks, try to get outside and take in some fresh air. Get some actual vitamin-D on your skin - this is a great subliminal energizer, both mentally and physically.
Getting a good amount of sunshine and fresh air can also improve your sleep quality, which improves your mental clarity and concentration. If possible, try to set up your PC or gaming station near a window.
Take Time to Analyze Each Play
In today's day and age, there is no excuse not to go back and unpack each game after it's happened. The trick is to analyze your play sooner, rather than later. With so many streaming services and in-game highlights, you have the chance to watch back your game and truly analyze your performance.
The reality is this: most gamers don't learn from experience. They learn from analyzing and reflecting on their experience after each game. This tactic cannot be more beneficial.
Take time to re-watch your performance as soon as you can while the game is still fresh in your mind. This way, you won't have as much trouble with reflection and recall. Alternatively, ask fellow players to watch back your performance and provide their own feedback or tips, if you have this option!
Mix up Who You Play With
One of your greatest downfalls when it comes to gaming performance is sticking to the same old players, game after game. In order to grow your skillset, you have to challenge yourself with new players.
So, don't stick to the same old competition - play with randoms who challenge you in different ways. Competing against a raft of different players, with different capabilities will keep you on your toes and teach you new ways of strategizing.
Along with this, you can also learn to improve your communication skills. When you play with new, random people you have to learn to adapt your communication to what they understand. This forces you out of your comfort zone while developing a new and improved means of communicating.
Optimize Your Gaming Environment for Success
Another important factor to consider is the quality of your gaming environment. As mentioned before, this is key to your gaming success and concentration.
You want to take a look at your gaming setup, specifically your chair, desk, or gaming console. Make sure you are always sitting upright in your chair and not slouching back. This is a great way to improve focus and your own gaming confidence. It's worth investing in a good-quality gaming chair for this reason.
Another crucial element is reducing the amount of external noise around your gaming environment, where possible. Don't have the radio or Spotify playing in the background. Use a room/area that is not disrupted by traffic, kitchen, or living room noise.
In short, try to eliminate as much distraction as possible. You want to invest in a pair of headphones that are noise-canceling and a good ergonomic fit, too. Make sure the sound quality is impeccable so that you are fully aware of everything happening in each game, at all times.
Create a Hydration Station
It's easy to get so wrapped up in a game that you completely forget about your basic human needs: breathing, drinking water and eating. Some games can be that intense! But one of the fastest ways to derail your concentration and motivation is with dehydration.
Research shows that a dehydrated brain leads to depressed cognitive performance, it affects your motor skills, i.e. your dexterity, and also reduces concentration. Make sure you have access to water and snacks throughout your hours of play.
Learn How to Become an Unrivalled Gamer
So, how to get better at video games? Some key points to keep in mind include your gaming environment, fresh air, hydration, gaming analysis, and mentorship. If you can apply these tips to your gaming experience, you could soon be an unrivaled player.
Check out the rest of this blog for gaming advice, gaming updates, technology news, and more.