IELTS is an exam that measures the language proficiency of the test taker. Before registering for IELTS it is necessary to get an overview idea about the exam. Every year lakhs of students appear for this exam who aim to pursue higher education in English-speaking nations and migrate to foreign lands for job opportunities. The exam pattern of IELTS is also an important thing to know before appearing for an exam. Academic tests and General Training are the two main types of exams taken by the test takers.
IELTS Academic
IELTS Academic test is for those individuals who are planning for higher education or professional registration in an English speaking country. This test is taken to judge the candidates' abilities to study and understand English and to check whether they are ready to begin their studying or training in an English native country. This test is widely accepted by the institutions and universities located in the English native countries across the world.
Take the IELTS Academic Test in Case:
IELTS Academic is conducted to measure whether the candidates' level of English language is suitable for an academic environment or not and it reflects aspects of academic language and checks whether you are ready to start your training or study in an English native country or not.
You must give the test in case
You want to study at an undergraduate level or postgraduate level anywhere in the world
Applying for Tier 4 Student Visa at a university that is a Tier 4 Sponsor in the UK
I want to work in an English-speaking country for a professional organization.
IELTS General Training
IELTS General Training test is given by those individuals who plan to go to the English speaking countries for secondary education, work experience, or training programs. Scoring high in IELTS General Training is also a requirement in case you are planning to migrate to Australia, Canada, New Zealand, and the UK. IELTS General Training test pay detailed attention to the social and workplace contexts.
Visit Thecerts.com, for exam dumps with 100% success guarantee.
Take IELTS General Training in Case:
IELTS General Training is conducted to check the individual's English language proficiency in a practical, everyday context. The tasks and tests reflect both workplace and social situations
You must give the test in case
You are planning to study or train below degree level
work or undertake work-related training in an English-speaking country
emigrating to an English-speaking country
Want to do another job in your own country.
How are the exams the same/different?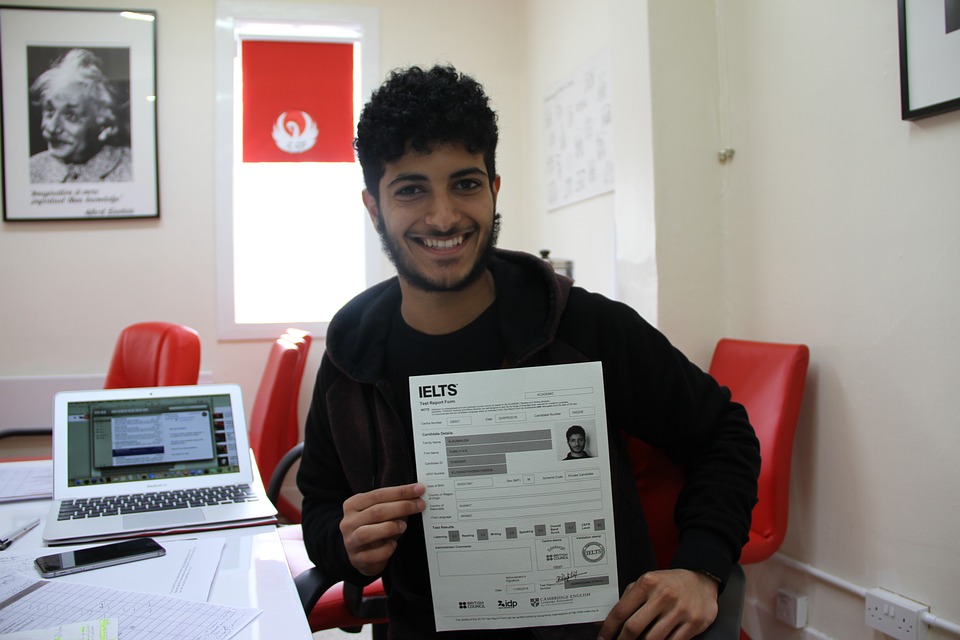 Both the Academic and General Training exam includes four sections listening, speaking, reading, and writing which is designed to judge the candidates' proficiency in English.
Listening
The total time for the Listening section is half an hour which is the same for both the patterns.
There are four recorded listening excerpts on both exams
Useful tip- Since the main aim of taking the IELTS Listening test is to test the individual's listening skills. Don't use much of the practice tests to improve your score as they are not enough and will rather make you familiar with the test, but will not improve your listening abilities. You must various listening exercises as you can listen to the general listening materials which include radio reports, TV-shows, documental programs, etc that will strengthen your listening abilities.
Speaking
For both exams, the candidates have to give a face-to-face interview which is arranged with a certified IELTS Speaking
In the Speaking module, 11-14 minutes will be given to the candidates to express their understanding of the given topics in both the IELTS Academic and General Training exam.
The speaking module consists of short questions and longer questions where the test-takers will be asked to speak about a familiar topic. There is also a structured discussion.
Useful Tip- You can strengthen your speaking abilities by considering different forms of media like radio, TV, online discussions and social conversations. Also, sharing your experiences with your friends by talking about ideas you found interesting is a good way to practice your spoken English.
Reading
The total time duration of the reading section is 60 minutes which is the same for both the IELTS Academic and General Training exams.
In both IELTS Academic and IELTS general training, both the exams will have three readings with questions about each reading.
For IELTS Academic , there are a variety of texts to read which include descriptive, factual, and analytical. The reading module will also include diagrams, graphs or illustrations.
There are three sections on the reading part of General Training . In the first section, two to three short texts will be there while in the second section, there are two short, work-related texts. In the final section, there will be one long text that can be asked on any general interest topic.
The texts prepared in both the Academic and General Training exam are authentic and most of the texts come from books, newspapers, journals, etc. (for the IELTS Academic exam), and books, newspapers, company handbooks, etc. (in case giving General Training test).
| | |
| --- | --- |
| IELTS Academic | IELTS General Training |
| 3 long passages with the increase in difficulty level | 4 short passages increasing in length and difficulty. The topics related to more general /everyday style texts come in the test |
| Excerpts are mostly academic in structure taken from the journal articles, textbook extracts | Texts related to social survival (advertisements, notices, etc.) |
| Texts similar to academic topics such as science, history, etc are asked in the exam | Workplace survival (job descriptions, employment contracts, etc.); general texts (newspapers, magazines, travel brochures, etc.) |
Useful tip- One of the best ways to manage your time in the IELTS Reading test is, to begin with, the text that looks easier to you. In case you start with the most difficult texts/sections first then you might spend longer than 20 minutes on it and thus there are higher chances that you might get less time for the other texts/sections. Choose those text and/or questions that you feel more confident and comfortable with.
Writing
The writing section will be 60 minutes for both the IELTS Academic and General Training exams.
Each section includes two tasks in Task 1, the candidate needs to write a minimum 150 words while in Task 2 a minimum 250 words text is needed.
The students giving the IELTS Academic exam, Task 1 is writing about a table, graph, chart or diagram. Task 2 is an essay while for the General Training exam, Task 1 will include writing a letter, and Task 2 is an essay.
IELTS Academic
IELTS General Training Test
The candidates need to describe and analyze data in one of the following-

Bar chart
Line graph
Pie chart
Table
Diagram

Candidates need to write a letter in one of the following styles-

Formal (to someone you do not know)
Semi-formal (to someone you know formally)
Informal (to friend or family)
Both versions of the test mostly have the same general format with main focus on checking the candidates' English writing, reading, listening, and speaking skills which are tested separately, no matter whichever test you are giving. There are not many differences between the listening and speaking sections at all, the candidates can expect almost the same topics and question types in the IELTS Academic or IELTS general test.
Useful Tip- It is important to understand the type of question as it will overcome half of your problem. You must pay attention to all the issues that are described in the question and first of all look at the question carefully then identify the question type- whether it is a kind of discussion, an opinion, a solution to the problem or a combination of all.
IELTS Academic vs IELTS General Training
The university students and professionals are expected to be equipped with high English reading skills that are strong and accurate enough for texts in professional and academic journals, textbooks, and relevant magazines and newspapers. In Academic IELTS, the texts are taken directly from journals, textbooks, and relevant magazines to judge the candidates' comprehension skills. Similarly, in the writing section, most of the topics relevant to academic and professional settings are being asked in the exam. The candidate's English writing skills will be judged so that it can be assured that they are strong enough to write college-level essays.
While the individuals who opted for General Training IELTS would encounter the same kind of language that might come in the advertisements, guidebooks, magazines, notices, or sometimes the kind of language that appear in employee manuals. A test taker's, you have to demonstrate your English skills in writing general tasks like letter writing or basic essay writing.
IELTS General and Academic Score Comparison
One of the biggest differences among both the versions of the test is based on the scores which the individuals can score in the test. In IELTS Listening and Reading are scored out of raw points, for each right answer test-takers will get 1 raw point. For instance, in case you get 30 out of 40 answers correct answers in IELTS Reading which is also referred to as a raw score of 30. In general training reading, it will be an IELTS Band of 5.0 but 30 out of 40 gets in IELTS academic reading would mean a band of 6.0. Your raw scores will have a completely different meaning in terms of the IELTS Academic and IELTS General Training test.
But as far as IELTS Speaking and writing sections are concerned, it is slightly different. In both writing and speaking sections, if the whole marks are considered 100 then each section in both writing and speaking sections will be of 25% of total marks allotted. This kind of IELTS score is the same for both these patterns.
Which one is easier: Academic IELTS or General Training IELTS?
When there are two almost the same English skill exams IELTS academic and IELTS general tests, it would be quite difficult to comment upon the difficulty level of the test. The difficulty level of the exam depends upon the students as well, as some students might find the test easier while for the others the test is quite difficult
But still, the General Training IELTS is considered easier as compared to the Academic IELTS test. The students giving the test believed that writing a short letter is quite easy as compared to summarizing a complicated graph or table. Even the test-makers believe the same, getting 30 out of 40 in general training reading is as hard as getting 23 out of 40 in academic reading. However, you must assume that IELTS Listening or Speaking would be easier in general training as these two sections are exactly the same having the same difficulty level, no matter whichever type of IELTS test version you are giving, including IELTS Academic or IELTS General Training test.
Some useful IELTS Preparation Tips
IELTS is an exam that requires quality to prepare for the main exam. Hard work and rigorous practice can only bring good marks for the exam. As it is one of the most acclaimed language proficiency exams, candidates prefer to prepare a lot for securing admissions in the best universities in the world. Few IELTS Preparation tips are as follows:
Test takers are expected to put words into the proper context as much as possible, so begin with your preparation, you must start reading more books, newspapers, novels, etc frequently to enhance your vocabulary skills.
You must maintain an English- dictionary, and pen down the new words along with their meanings, making sure that you know their meanings at any point in time.
You must develop a habit of recording a consistent part of your English lessons which will enhance your reading skills.
Enhance your listening skills, you can start listening to the news in English every morning and try to write them down and analyze what was written. Post-cross-checking your answers, listen again and try to work out the cause of any problem.
Always remember that you are not being tested for your general knowledge skills but rather your ability to communicate effectively will be tested in the IELTS test.
You need to develop your writing skills by understanding the ways to structure an essay paragraph by paragraph. You can become an expert in it by practicing reading more and understanding essay questions. Also, consider practicing different sample essay questions and write sample responses to enhance your skills.
While focusing on speaking as well, you need to practice more samples speaking tests with your friend or professor. You need to become comfortable speaking English and share your experiences with your friends.
Since your awareness across the global activities will also be considered, you should start reading some general topics like news, current affairs, science, climate change, economics, among many others. The more you read, the better understanding you will develop about English as a language.
Try to learn from your mistakes and stay conscious of your habits and weaknesses as it is an important step for getting a good score in the IELTS exam. Consider your mistakes as an opportunity to understand the content correctly and avoid making the same mistakes again in the future.
The easier nature of any test does not give you an option to choose between General Training IELTS over Academic. Since each of the organizations or universities have different IELTS requirements, you have to abide by it to secure your selection to an English native country. The candidates planning to go to an English native country are advised to check which IELTS test is considered by the organization in which you are applying.
Before you explore your options regarding choosing between IELTS Academic and IELTS General Training, it is important to spend some time researching and understanding the need for the test that can help in meeting your personal, professional, and educational goals. By knowing the requirements for education, training, work, and/or migration, and having a crystal-clear plan, you can take the necessary steps towards reaching your goals.