Today we are here with 5 steps to lanuch your brand. Building a brand for your company is one of the most important things you can do as a marketer.
A brand allows you to differentiate yourself from industry competitors with a unique image, a memorable voice, and an identity that resonates with your target customers. But establishing and launching your own brand from scratch can be difficult-particularly when you're a startup with limited resources.
It can be tempting to rush through the process of market entry and start selling products as quickly as possible, but the way you introduce your company to your customers could have a huge impact on your potential for future sales. After all, you really do have only one chance to make a first impression.
Adopting a forward-thinking mindset, establishing a strategy, and fully prepping your rollout will help take your launch into the success stratosphere. All it takes is a commitment to five simple steps.
Founding father Benjamin Franklin told us that when we fail to prepare, we prepare to fail.
There's a lot more to launching a brand than simply showing off a new logo or telling people that you're open for business. The quicker you get started, the sooner you'll be able to identify potential problems before they damage your company's reputation.
For instance, we all remember the fateful spring morning when Instagram rolled out its brand new logo, sparking a public outcry and leaving the business wondering where it went wrong.
Instagram is just one example of a spectacular failure to launch, but its experience provides insight into the importance of giving your team plenty of time to make sure that your strategy makes sense before rolling it out to the masses. Just a few extra weeks devoted to consumer research would have been enough to save Instagram months of damage control.
Know your audience ecosystem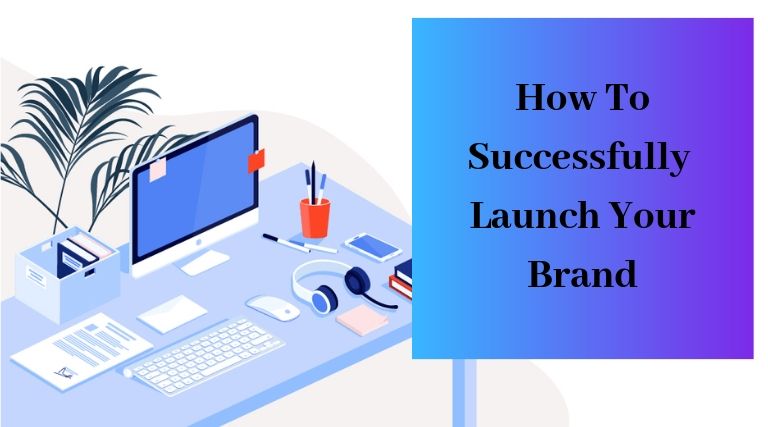 Your brand is your reputation, your identity, and your soul as a business. The most successful brands are those that resonate with their customers on a deeper level, sharing unified values, beliefs, and goals.
The more you know about your audience ecosystem, the more you can design a brand that both generates buzz during your launch and continues to establish long-standing relationships for the life of your company.
A brand is the first impression that gives a voice to your company. It becomes the identity of your company and creates a unique identity in the market. These is the foremost things through which your target customers recognize you. But building a brand is not as easy as you think.
Coming up with a new brand and building its value is vital and challenging for a marketer. The idea to launch a brand and start selling products quickly may sound fascinating but the process to introduce your product and make it familiar with the target customers is more of consideration. The way you bring your brand into the market and introduce it to your customers is important in terms of future sales.
Good strategy, future insight and a well-managed roll out plan may allow you to take a leap of success. To make it happen, you need to opt for the five simple but tactful steps mentioned below:
Step 1: Be Ready for New Start
Preparing for the launch is the biggest and foremost step towards the marketing of your product. The sooner you will start, the earlier you will come to know about the status quo of your product. An early preparation or testing of the product will save your company from losing the hard earned reputation.
A launch without strategy is like a bullet fired in the air. You may not hit the target but will lose a bullet. To save your launch, it is necessary that you devote a specific time researching over the targeted audience and their demands.
Step 2: Learn about your Targeted Customer approach
A product manager knows the value of understanding customer and their expectations from a product. The most popular brands have connected with their customers and understood what their customers need, believes and expect from the brand.
The more you know about the design a brand, the more you should concentrate on the significance of knowing audience ecosystem. A good understanding of the customer may help you to build the buzz at the time of launch. By knowing your customers you may develop a long lasting relationship between customers and company.
What are the steps to roll out your plan and hit the target market?
Buyer persona is an important resource. It will allow you to know your customer and teach you how to communicate with your customers, find the target audience and improve their involvement.
Maintaining a correct consistency is necessary for marketing your brand. You need to know on which social platform your customers spend their most of time. After that you need to create a consistent interaction about your product with the targeted audience. This will help to keep them curious and interested in your product.
Finally, don't tell what you have, tell what they think. Ask from your customers their view about your logos, name or website. Engage them into your marketing and make them feel connected to your brand from beginning to end.
Step 3: Believe in consistent evaluation.
The new way to establish a good customer relationship is telling the story of evolution. Successful brands indulge their audience with their evolution process from the time of launch. Consider the example of Airbnb, when it introduced its new identity in 2014 it shared the story about how their new logo connects with "belongings".
In the process of storytelling, another important clue is your employee. Employees are the ambassadors of any brand and the first storytellers who share the goodwill story of company. Make them know everything about your brand and its evolution. They can be the game changer in the whole story of launch marketing.
Step 4: Create a perfect launch deciding the timeline for your brand
Timing plays a very important role in business. Sharing right information at the right time is good in terms of marketing. It may help you to connect with the right people and grow your business. You need to consider following points to establish a good connection with customers. For instance, marketing collateral, social media, signage etc.
Before the final launch, always try to keep a check over the branding and logo information. Avoid any leakage and negative conversations about the product to sneak and ruin the brand launch excitement.
Step 5: Execute it well
A well-executed strategy may increase chances of success. For this you need to communicate with the customers and partners. You need to put the system in order from the first day of branding. This will allow you to get the feedbacks of customers on the early stage and thus will give you the improvement options.
Brand marketing is a consistent process. To launch your brand successfully you need to maintain the same excitement and energy throughout its life. Brand launch is just a start. There are lot more that require your consideration after a successful launch.