Are you suffering from a lack of hair volume? Are you looking to add some life to your tresses? Follow these tips to get the hair of your dreams and leave the flat-looking limp locks behind. Let's take a look at the ways you can apply to get long-lasting hair volume.
13 Guided Tips to Get Long-Lasting Hair Volume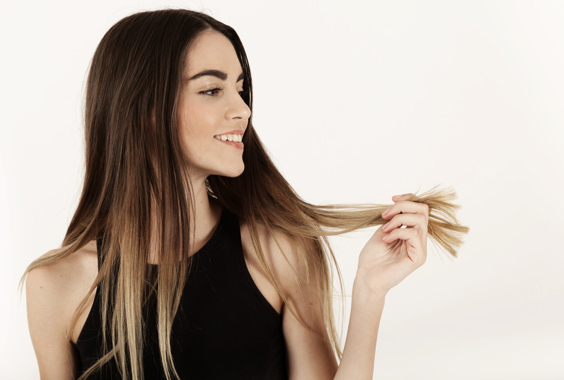 Change the way you part
If you have been parting your hair the same way since you learned to part hair, maybe it is time to change the direction of your flow. Parting the hair in the same direction for long periods allows your hair to fall thin and lie flat. Once you change the direction in which you part your hair, you will see the volume come back to your hair instantly.
Change the direction you blow-dry your hair
Stop blow-drying your hair from down to up. Change the way you dry your hair by hanging your head down and blow-drying the upper section first. This way, you can pull hair away from the scalp, adding volume. According to hairstylist Nathaniel Hawkins, blasting your hair with cold air after drying it will "create fullness and loosen up the blow-dry."
Layer it
One of the best ways to lighten up your hair and add volume to it is by layering it. It can decrease the weight of your hair and add bounce to it. However, you have to be careful while layering your hair as too many layers or lopsided ones can make you look weird.
Use the finger
You can add volume to your hair without using any equipment if you know how to use your fingers. The process is called "finger girl" and involves being an expert at making waves and curls by twisting and curling sections of your hair with your fingers. Once you have gotten your hair to look like the way you intended, use hairspray to let it stay intact.
Another way you can add volume to your hair is by letting it dry with braids in. This way, you can have natural waves with no efforts.
Avoid straightening
Some people can carry straight hair with ease, but not everyone bodes well with having straw-like hair on their heads. In fact, straight hair makes fine lines and wrinkles in your face stand out. So before you decide to go through the task of straightening your hair every day, try to embrace your curls and waves.
If you are someone who loves having straight hair but also wants volume, you can try hair extensions. Although artificial hair extensions help you increase the length and volume of your and make it appear natural.
Use rollers
Rollers can do wonders if you are looking to have natural waves at home. Whether you use modern hot rollers or the old-style put-them-in-before-bed, they can let you have soft, beautiful waves and, at the same time, add volume to your hair. According to The Skincare Edit, "Rolling away from the face gives you glam Hollywood waves, while towards the face creates a more vintage, Veronica Lake effect."
Shift your hue
Dying your hair causes changes in your hair structure. Getting a new hair color might rough up your hair just enough to make your hair look more voluminous. So getting a new hair color can not only give you a new look, it can make your hair look bouncy and wavy.
Moreover, when highlights are put strategically, they can make your hair look and feel more voluminous as well.
Don't wash your hair daily
No matter how good a brand you use, shampooing your hair daily can cause damage to your hair. When you wash your hair daily, you remove the natural oil secreted by your scalp, which ultimately makes your hair drier. Shampoo your hair twice a week, and you can have the bouncy and wavy hair.
Understand your bristles
Make sure you are using the right kind of hairbrush for your hair. Wrong types of hairbrush can deal significant damage to your hair. According to Matrix, hair products, good hair brushes come with natural boar or flexible nylon bristles. It is also recommended to use a brush with a cushioned base.
Use mousse
Mousse has had a bad reputation because of the 80s; however, it can play an essential role in giving your hair volume and plumpness. Harry Josh, the celebrity hairstylist, says mousse "makes your strands huge, so it looks meatier and allows for more pliability." Apart from considering the hairstyle hacks in your daily life, you should be consulting with the best hair stylist or hair technician for a better recommendation about increasing hair volume.
No matter how much information you gather over the internet, Your hairstylist is the one who will guide you with the most optimum tips about your hair. because Every person has a different hair structure and It needs a lot of things to look into that before suggesting a treatment.
Give dry shampoo a try
Dry shampoo not only adds volume to your hair, but it also stops harmful oil from building up in your scalp. Nevertheless, don't apply dry shampoo to greasy hair. Instead, incorporate the product on day 1 of your wash cycle; this way, you can prevent the oils from building up and have your hair feel voluminous.
Go with CBD oil
Only when your hair is healthy, you can have bouncy and wavy locks. One of the best products to achieve that flawless mane is CBD oil. Apply CBD oil on your strands, and its amino acid and antioxidant properties will help you strengthen and hydrate your hair follicles. It also protects your hair from free radicals and keeps your hair in a manageable condition.
Sea salt spray is your friend
It does not matter whether you live near an ocean or far away from it; you can have wavy beach hair by using sea salt spray. Apply sea salt to your wet locks and scrunch them with your hands as they dry. However, Do "not to overload too much into the roots, these products work best on mid-lengths to the ends," warns Marc Trinder, The Art Team Director for Charles Washington.