When you are planning a wedding, there are so many things that you need to know. We all know that weddings are the most expensive affair in anybody's life so I am sure you don't want to ruin it by doing inappropriate planning. Over the years, by advertisements and marketing, people have convinced to spend a lot of money at weddings.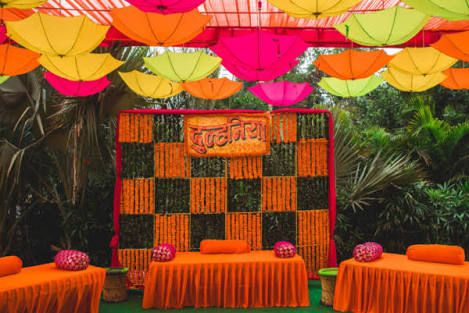 But there are still so many people who believe that spending unnecessary money on weddings is not worthy. So, here we have brought up different ways that are suggested by affordable wedding Planners in Pune to plan a budget friendly wedding.
From the wedding venue to the wedding dresses, you can save money in different ways. It depends on whether you want an expensive and stressful wedding or an in-budget and properly planned wedding!!
Having an inexpensive wedding with appropriate services reflects your planning skills. With these skills, you don't have to spend a lot of money to have an amazing wedding. What … You don't believe us? Wait! Let me prove it. Here we have rounded up some tips for having an in-budget wedding-
Tips for Planning A Perfect Budget-Friendly Wedding
Figuring out a proper budget for the wedding can be confusing as well as difficult if you have never planned something like this before. So, plan it very carefully as this is the most special day of your life and everyone wants it to be memorable and wonderful. Here are the tips for this-
1. Plan A Budget and Strictly Stick to It
Forget every other thing and just focus on deciding the budget first. It is important to ensure the budget and stick to it. For deciding the budget, you have to decide the "must-do" things. So, talk to your partner about this and mutually determine the things you both want to have at your marriage and then plan a budget!!
Are you financing the marriage by yourself or any of your relatives is going to help you with this? Be sure about the funding source because finding the source for funding is far difficult than deciding the budget. So, keep your budget limited and avoid the not-so-necessary things.
2. Give Yourself Time to Plan the Things
For doing all the research and preparing the things, it needs a lot of time. So, give yourself proper time to decide all the things. In this time, you can determine the essential works to do and can save costs for caterers, venues, decorators, and labors. If you will book all the vendors such as- stage decorators, caterers, dancers, etc. in advance, it will save a lot of money as in the season of demand, they also have high service charges.
You can take decisions about the timing of all the events as you know nowadays all the vendors charge according to their service hours. So, you can save money by booking them for a limited period.
3. Invite Only Closed Ones in The Wedding
I don't know why people get a headache by inviting unwanted guests at the wedding. Just invite those people who are close to you and fewer guests mean you don't need a grand wedding venue because event with fewer people can be done in a smaller place.
Inviting some unwanted guests at the wedding brings many more unknown guests along with them!!
4. Make the Wedding Invitations by Your Own
If you know someone good at designing the invitation then it is alright but if you don't then why don't you choose to design it either on a computer or by hand. You can save a lot of money by doing that!!!
If you are good at graphics, then design invitations and send them online. You can use this for less formal invitations.
5. Plan the Food Carefully
Due to a lot of guests, sometimes we have to hire a chef who can cook food for all the guests daily. Rather than hiring a cook, you can ask for this to your family members. With their help, you will not need a cook!!
Also, there can be seen a lot of food wastage in most of the weddings so try to avoid this by selecting limited and essential dishes on the wedding menu. For saving money, you can also avoid some unnecessary things like alcohol, wedding cake, etc.