Due to the increased popularity of apps between customers and consumers, many businesses are moving towards the construction of apps. Although a large number of businesses are preferring custom mobile app development for catering to more customers.
The custom mobile applications are fully altered to address specific audiences and can be fully or partially personalized according to your business needs thus garnering a huge number of audiences with varying needs and requirements.
The Role of Mobile Apps in Business
It is no doubt that business is all about engagement with your customers or consumers especially when they reach you whilst seeking out services or products. And mobile applications right now are proving to be great conduits for the engagement and preservation of customers. That's why you should consider mobile application development for your business. But if you are still confused about why you need it.
Then there are plenty of reasons why you should have a mobile app and there is a list of points prepared to convince you.
Reasons of Why You Should Have a Mobile App for Your Business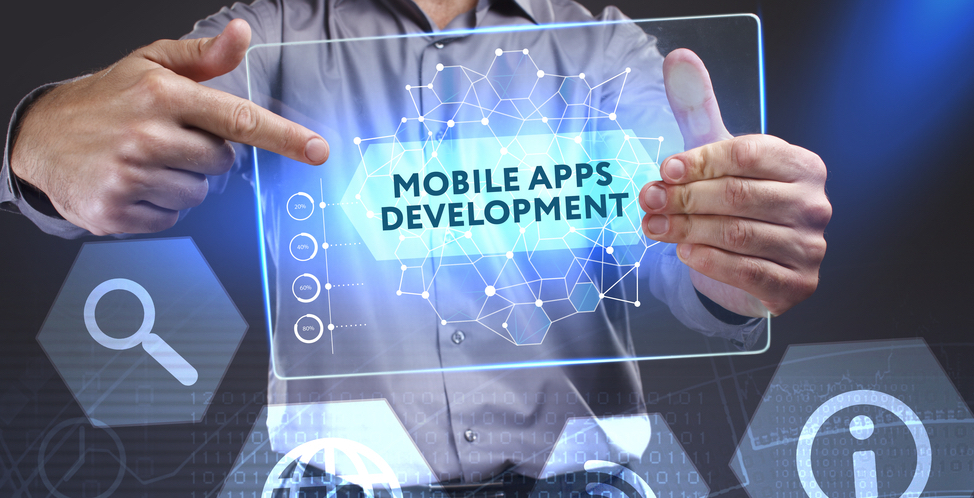 Here is the list of reasons why your business is in need of a mobile app:
The mobile apps function as great marketing tools and aid you in getting ahead of your competitors. In addition to usage of the traditional marketing tools, apps can provide you with the latest tools of advertising and marketing like push notifications, discounts, news feeds, offers, and new launches, etc.
Push notifications are a notable and a very useful feature of mobile apps as it is the most sought-after feature which has increased the popularity of mobile applications. Because push notifications enable the entrepreneurs to send messages to users in an alert form about any coupon, discounts, and offers, etc.
Gain Customer Loyalty
One of the reasons mobile apps have gained popularity among businesses and entrepreneurs is because of their engagement with customers. As it allows you to directly communicate with your customers. And the promotions, monthly subscriptions, etc offered by you in your business application will have more impact on your customers in comparison to social media marketing, roadside banners, and email marketing.
Mobile application no doubt is the latest way of remaining in touch with your customers. Different creative strategies surely help in customer retention and in winning their loyalty.
For instance, Starbucks gives a new star point system in their application which rewards the customer whenever they pay a visit to a Starbucks store in their vicinity. So the customer in pursuit to increase the reward star continues to come to their store.
Gain more Visibility
With a large number of people having smartphones and a huge number using mobile apps. You have a greater chance of making yourself visible among the users and customers which will eventually help you in building your brand.
Here's a bit of science involved in this process as having your app in the way of scrolling will increase your visibility as the human mind is able to retain colorful images, and creative or rhyming texts. So by playing with little creativity you can actually gain visibility which will help you in gaining more profits. You can hire a mobile application development company for this purpose which will help you in building state-of-the-art applications.
Increased Brand Recognition
Brand recognition is the most important thing a business needs to achieve. As increased brand recognition gives you more advantage over the competitors and helps you in garnering more customers.
Brand recognition is built with years and years of work. Keep in mind you also need customer engagement for this. Indubitably it is a difficult task to do but yet the presence of mobile app has made this easier. As apps offer more customer engagement because of push notifications, discount deals and offers, etc. which helps in remaining in touch with your customers. The more customers are in touch with your brand the more you will receive trust which will eventually help in inclining them towards the buying of your product.
Have More Profits
The custom mobile app development helps in increasing profits because of their reach as everything a customer wants is one click away. The accessibility and reach granted by these applications have surely aided the businesses in increasing their profits to the maximum.
A practical example of this is Dominos UK. As in 2010, they launched an app and this helped them in increasing their sales by 28%. They are considered pioneers in the field of using mobile apps for sales and marketing purposes.
Get Feedback of Customers
Every mobile application development company tries to bring new features in apps to engage more customers. And the feature of giving feedback on each and every product has helped the app owners in comprehending the demands and the needs of the customers. The feedback not only helps in knowing the opinions of the customer but helps you in gaining trust.
This can also help you in designing your marketing and advertising strategies more efficiently and in a more targeted manner.
Personalized Customer Experience
Having a mobile application gives you more benefits than having a brick-and-mortar store location. As in a mobile business app, you can note the customer browsing history. And on the premise of this data, you can monitor and analyze customer behavior. In accordance with this, you can offer a personalized experience to your customers so that you can have many customers. Indubitably, customer behavior and analytics are important.
As the most prominent example in this regard are Netflix. As the company has built its interaction around the analytics and customer behavior data. As 75-80% of viewers' activity is influenced because of recommendations.
Conclusion

The change in the buying behavior of the customer has also forced businesses and entrepreneurs to change their ways of approaching customers. And apps undoubtedly are the most effective way of doing that. And investing in the mobile app development services for custom mobile app development is the best investment you can make.
John Smith is a digital marketing expert working in one of the reputed mobile app development company. He has helped several brands grow from nothing to a successful name in the past few years. He believes smart work and business values go a long way when it comes to success.