Everybody loves going to the beach for a nice swimming session during summers. But if you are too afraid to take your baby swimming with you, just relax!
You no longer have to cancel your swimming plans and stay indoors just because you've had a baby. In fact, you can even take your child with you to a nearby pool or beach.
6 Tips for Taking Your Baby Swimming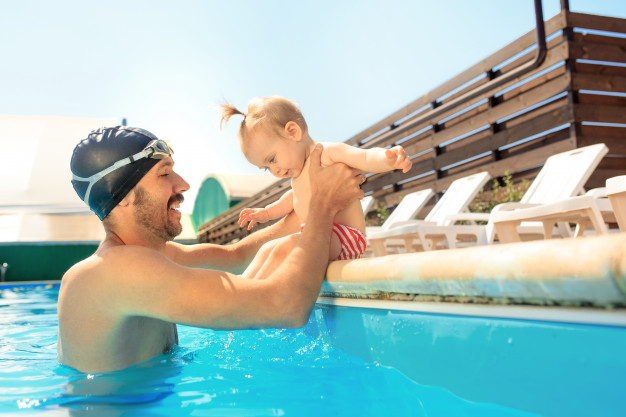 Here we've mentioned the best 6 tips for taking your baby swimming for the first time.
Be Prepared Before Leaving Your House
Before you head to the beach, ensure you have packed all the necessary items, such as towels, sunscreen, sun hat, etc. Also, to not waste any time when at the beach, you can wear your own swimming costume under your clothes.
You should even carry a couple of extra clothes, in case you need them.
Don't Forget Those Baby Swim Diapers
When taking babies swimming, make sure you are carrying a pair of swim diapers along with those biodegradable diapers.
As compared to regular nappies, having your baby wear swim diapers will ensure that they aren't waterlogged when experiencing their first-ever swim. Also, the majority of pools and beaches do not allow babies to wear regular nappies.
Carry a Poncho Towel or Dressing Gown for Older Babies
If you are going to the beach with a newborn baby, then a pair of baby swim diapers and a huge towel is more than enough.
However, when it comes to older babies, it is best that you carry a poncho towel or dressing gown since they tend to wriggle or shrug the towel off. You can also place the poncho towel over the head to ensure they don't slip.
Keep the towel or gown near you, so that you can immediately drape your baby once they are out of the water.
Try to Perfect Your Timing
Of course, this is easier said than especially when you have a small baby. But it is better to always take your child to the beach for swimming when they are well-rested and properly fed.
This will make sure they love being in the water and have a memorable experience by the beach.
Carry Your Baby's Favorite Toy
Your baby is likely to enjoy swimming at the beach if they have something they are familiar with. You may consider carrying their favorite toy so that they enjoy their pool time.
Enroll Your Baby for Swim Classes
If you aren't sure about taking your baby to the beach for swimming, you can maybe enroll them for swim classes. There are organizations that specifically train babies in warm pools.
Tips for Pre-Baby Financial Planning
You can either check your local area or consult parents in your neighborhood for some good recommendations.
By enrolling your baby for such classes, you ensure that your baby is given proper guidance in the pool. Also parents will find handy items like changing mats, in case your baby faces a mild-swim accident.
The Bottom Line on Will Babies Like Going for A Swim?
Initially, it might be a tad bit difficult for you to take your baby for swimming.
Now, you might think that since your baby loves taking a bath, they will enjoy their experience in the pool or beach. But that's not how it usually happens, especially during the first trip.
When starting out, you need to take it real slow. Begin by sprinkling water on their feet and over the head and then dip your baby's toes in the water.
Make sure your baby is comfortable with you. If they specifically prefer their dad or mom, then let it be that way. After all, you'd want your child to feel absolutely comfortable in the pool or at the beach.
Now you know the tips for taking your baby swimming but always do what you feel is best for your baby. But if they don't like the experience in the pool, avoid taking them with you.