Are you planning your trip to Europe? Do you have any idea of where to visit? So, don't worry, you have a full guide in this article which helps you to plan your trip correctly without distributing with any issues. Know the things that you need to do are:
Try To See All The Places By Taking A Long Time:
Make sure to plan the trip when all are free. If you are planning a trip with family members, you need to wait for the holidays of your kids to enjoy a long trip with your kids. See when there are no exams for children; otherwise, you may worry about their exams even when you are on vacation. 
Also, if you are a job holder than choose the dates when you are free, and no meeting are there to keep your mind free from the office. Here are the best deals to visit Europe holiday packages from Dubai that offers you services at the less budget.
Plan a trip for long days and enjoy each place for more time with your family. There will be a lot of places to visit with kids as well as with your sole. You can list out so many places to visit. So,e will be paid, and some others will be free to visit.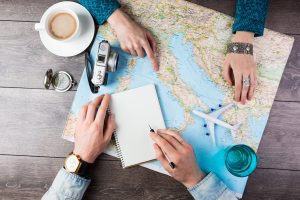 Don't Forget To Factor in Travel Time:
Suppose you have eight days to stay in Europe to see places and you have divided Europe into three cities to see near spots quickly. Know how you are going to cover all the place and where to start and end. So that will depend on when and where you are travelling.
Plan the trip firstly the cities which are close to one another, such as Madrid, Barcelona, and Seville, for those places the train will be available, which is the best option. Suppose you are planning to visit Copenhagen, Stockholm, and Amsterdam, later you will utilise an aggregate of aircraft and trains which make you get around.
Going from town to town takes a long time. So, make sure to plan perfectly where you need to go and how to go and by what you should go. 
Read Also: Heart-warming Trip to Ladakh
Using Trains versus Planes:
In most of the situations, you may have several options to book for the planes or to get a train from one town to another. While looking at journey times, it may take one hour plane may take a lot time-efficient compared to a 3-hour train, this will not come in all the situations but in some times. 
All know that there will be a longer check-in rule for flights. But, for a train journey, in most situations, you can reach just before the departure time, yes some of the high-speed trains demand you to arrive 30 minutes earlier to departure time.
Well, the train stations will be located inside the town centres itself. And from that station, and from there it just takes a little time to reach which is walkable to the hotel. But, the airports will be located all most in outside the cities, which takes nearly 15 to 30 minutes to reach inside the city. 
And it takes another hour to check all the documents and to et into the flight. Make sure to check the offers provided by most of the agencies for flight for Europe tour packages from Dubai.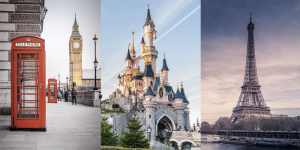 Use Open Jaw Flights to Maximize Your Time:
Open-jaw planes land in one of the city which you wants and leave from various city.
With this option, you may save time by hiring different arrival as well as departure cities.
For example, you are visiting Florence, Rome and Venice. If you are visiting Rome, then travel from Venice, this might save your half of the day.
See Also: 7 things to do in Dubai Marina Must See
In most of the situations, this will be no expensive to choose this option. You can choose this open jaw option several times at the same price to travel around the city.
But, in some situations, it might be more expensive for an open jaw. First, know your budget and plan for this on spending small extra money to save some time.