To say that the smartphone era made smartwatches mainstream is understating it. Because of smartphones, smartwatches are now an important part of being more connected than ever. That's why in this article, we've collated the best smartwatches for any smartphone out there. Whether you're an iOS or Android user, there's a smartwatch that's fitting for you:
Best Smartwatches to Pair with Smartphone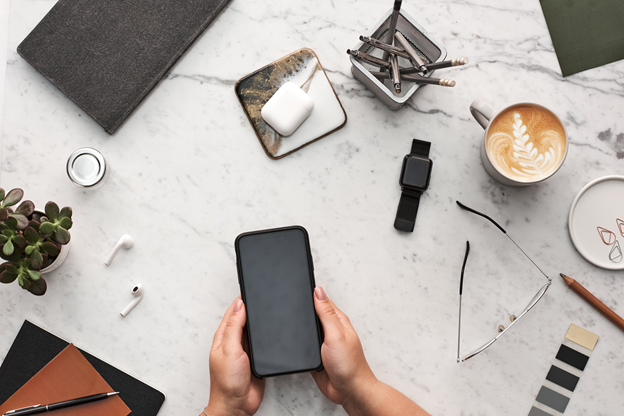 Flagship Smartwatches: Apple Watch Series 5, Samsung Galaxy Smartwatch
Apple's latest Series 5 smartwatch is arguably the best smartwatch on the planet right now, and it's the best option to buy when you're an iOS user. With the Series 5, you get an always-on display, a great battery life, and larger screen size. Integration with any Apple device, whether it's iOS, iPad OS, or Mac OS is second to none, plus better seamless activity tracking to keep track of your physical activity.
The Apple Watch Series 5 is one of the best mobile accessories you can buy, but it does come with a hefty price tag. If you want to save up a couple of hundred dollars, the Series 4 or 3 should suffice. These models are as good as the latest one, plus they're updated consistently so you won't be worrying about security patches and getting the latest features.
If you are an Android user, the Samsung Galaxy Smartwatch is the one to beat in terms of features and syncing. It's also one of the most good-looking smartwatches on the planet today, so if you're looking for a smartwatch that's elegant enough to be worn on formal functions, look no further than this watch.
The Galaxy Smartwatch is outfitted with Tizen OS, which is Samsung's OS for most of its appliances. While some purists may say that an Android phone should be paired with Google's Wear OS, there is still no smartwatch available in the market today that truly features how seamless Wear OS integration with Android phones should be. Until then, the Galaxy Smartwatch should do.
Midrange: Fossil Gen 5 Smartwatch
Talk about a Wear OS smartwatch. The Fossil Gen 5 may be the best smartwatch right now that carries Google's smartwatch OS, and it ticks all the boxes. Battery life is phenomenal, app support is getting better, and syncing is a breeze. Plus, it doesn't hurt that Fossil's take on smartwatches leans towards a simplistic yet effective design.
The round bezel and the choice of silicone or stainless-steel clasp is nothing short of elegant. It can be paired with both iOS and Android phones, and although there's no competition with Apple's seamless integration between its devices, the Gen 5 surprisingly works really well with iPhones.
It's better suited in an Android phone of course. You can download apps from the Google Play Store with the app. It's swim-proof as well so you don't have to worry about getting it wet when you are in the gym or having a quick dip in the ocean.
Starter: Mobvoi Ticwatch Pro
If you're strapped for cash, the Mobvoi Ticwatch Pro is a great smartwatch to have. If you haven't used a smartwatch before, starting with the Ticwatch Pro will give you a great idea of how to use them. You can use it on both iOS and Android, and it has the best battery life of all the smartwatches listed here.
Under the hood, the Ticwatch Pro is running Wear OS, with all the bells and whistles of a flagship smartwatch. It has dual-screen processing so you can check out your fitness data while choosing a song on your playlist.
It also has a great GPS tracking and you can log your run times as well as routes on the same minute you are traversing it. It's lightweight on the arm, is waterproof, and has half the price of flagship smartwatches. What more can you ask for really?
Takeaway
Getting a smartwatch today may be one of the smartest decisions you'll make. Since the rise of these devices is still in the beginning stages, its prices are kept at a minimum. The watch industry will soon be inundated with so many smartwatches, and the competition will be stiffer. With more advanced technology on the way, future smartwatches may be priced at a steeper price.