"Creativity inspires ideas, ideas inspire change!" No matter how old you get, if you are a creative person, your art will always find a way to influence people around you. It takes great effort to turn an idea into a great piece of artwork. Implementing the ideation in the right manner requires the right set of tools and art supplies. 
Today, many professional artists use artist markers to create a unique and fascinating art piece. If you are an artist as well, then you should have alcohol artist markers in your art kit.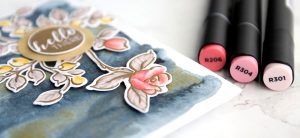 In this blog, I will explain to you how to work with alcohol artist markers. But before that, let me give you a brief about artist markers-
Artist Markers
Artist markers are an excellent, portable and low maintenance alternative to watercolors. Working with these markers offers the advantage of eliminating the mess from your desk. Artists have a special liking towards alcohol artist markers because they dry quickly and are permanent. Also, the results of marker drawing resemble drawings made with inks.
Tips on How to use Alcohol Artist Markers
The first and foremost thing is to invest in the right set of alcohol markers. You can order high-quality, reliable pens at super exciting deals from Altenew. Alcohol markers offered by them come with a fine brush tip and easy gripping which helps in improving the artwork.

 

You can select layer colors and control darkness in a better way with these markers.

 

Using heavier papers or cards can easily help you overcome the ink bleeding issue.

 

Become an expert in the layering technique by starting off with the lightest colors and ending with the darkest colors on the top.

 

Since these alcohol markers offer excellent consistency, they can be used to blend two or more colors together just like paints.

 

It is advisable not to use long or short brush strokes while working with these markers. Instead, you can try dotting, dabbing, and cross-hatching to produce the same effect.

 
Summing Up

Alcohol artist markers are the best medium when it comes to creating beautiful blends and realizing true creative potential. These markers are available in a wide range of colors on Altenew, which allows you to perform shading techniques as desired. You can also get a "Hello" stamp set absolutely free by filling out this form at Altenew. Start using these markers to give a finishing touch to your drawings.